---
Question
Which air operated Industrial Duty Impactool™ should I choose for my application?
Environment
Impacts used for general maintenance, non-critical torque assembly, and bolt-changing operations in Production, Power Generation, Construction and other MRO (Maintenance, Repair, & Operations) applications.
Answer
Impactools are typically selected on the basis of Drive Size, Bolt Size, and/or Required Torque. 
Key Selection Questions to be considered:
What is the Size of the Bolt to be fastened?
How much

Torque

is required in Ft-Lbs/Nm for the application?
What Drive Size is needed for the Impactool and Sockets?
What is the

Frequency of Use

for the Impactool (e.g. continous, intermittent, or occasional)?
What are the Ergonomic needs of the tool operator for the application (e.g. tool weight, handle type, easy and comfortable accessibility to the work piece)?
General Selection Guidelines and Tips:
Rule #1: Square Drive Size = Maximum Bolt Size
Rule #2: Impacting Time = 3-5 Seconds (max)
Tip: Exceeding the 3-5 second Rule may cause excessive impact mechanism wear and heat
Rule #3: If actual Impacting Time is => 10 Seconds, select a larger/higher torque tool
Rule #4: Choose an Impact for the "worst-case" scenario for which the tool will be routinely used
Tip: Impactools can use a lot of air, especially as they increase in tool/drive size; a proper air supply (air pressure and scfm air flow) will help provide maximum performance.
Impactool Selection Chart:
Most popular models are listed below, however additional models are available for consideration.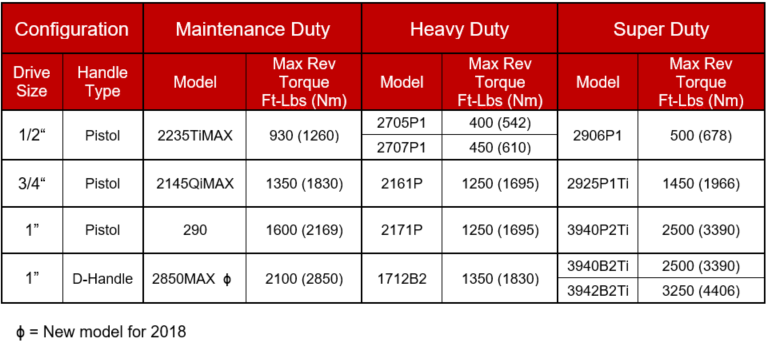 Tool weights and Air Consumption and other performance specifications can be found for each specific model listed at the following website:
 https://www.ingersollrandproducts.com/en-us/power-tools/products/impactools.html.
If additional assistance is needed in the selection process, please contact Ingersoll Rand's Power Tool Technical Support Team at IRTechSupport@irco.com or, Submit a Request via our Help Center.