Question
What Sanding Pads sizes and types (Adhesive/Hook-and-Loop) are available for High Speed Sander models 317A and 317G.
Environment
End-users and Service Centers looking to replace the Sanding Pad or purchase additional pads for a 317A or 317G Sander.
Answer
There are two Sanding Pads (also known as Backing Pads) available for the 317A and 317G Sanders.  These include a 3" (74mm) Pad and a 5" (125mm) Pad.  These two pads are not sold separately, and are only offered as a pack containing one of each size.  The Pack is sold under Part Number 317A-825. 
When assembling the Sanding Disc and Pads onto the tool, always use both Backing Pads with the 3" Pad positioned closest to the Sander with the Pads' labels facing the Sander as shown below.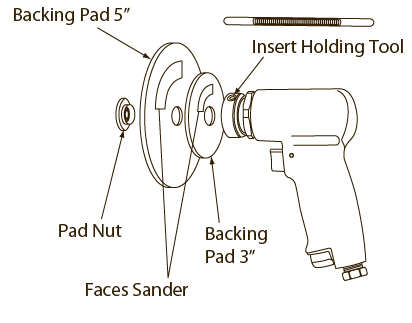 These Sanding Pads are for use with resign-backed or pressure adhesive Sanding Discs only.  There are no Hook and Loop Sanding Pads for the 317A and 317G Sanders.